Welcome to

Hills and Dales Accommodation

Natural BUSH Paintball

Minimum number of 8 people required to play

Country and Homestyle Venue

in Lanseria, Gauteng

Friendly reception

with Douglas

Beautiful gardens

Something special for every season

Natural BUSH Paintball

Minimum of 8 people required to play

Great English breakfast

Order prior to arrival
Accommodation and events venues situated in a country setting
Situated on 23 hectares of rolling countryside in the tourism supply zone for the World Heritage Site, The Cradle of Humankind, Hills and Dales Accommodation is a relaxed, country and home style venue.
Our mission is, to cater for each individual guests requirements from peaceful getaways for couples and families, to school reunions, farmers groups, golf tours, 21st and other birthday parties, team building events, relaxed business meetings and paintball in the natural terrain.
Boasting beautiful gardens, lovely scenery and ambiance as well as abounding birdlife, the property is situated adjacent to the Lanseria Airport providing a peaceful getaway 40 minutes from the hustle and bustle of the environs of Johannesburg and Sandton.
We offer unique and exciting Bush Paintball for 8+ guests.
Viewing by appointment only!  Tuesday to Friday between 09H00 and 16H00 and on Saturday between 08H00 and 11H00
What do you get out of our services?
Reception availability from 07H00 to 16H00
Units are serviced daily except on a Sunday and Public Holidays.
Small piles of wood are supplied for each Unit.
Catering is provided on request.  We do not operate a restaurant or hotel kitchen so we need to plan ahead.  We do not provide last minute orders.
Laundry service is provided from Monday to Friday.
Lanseria Airport Shuttle.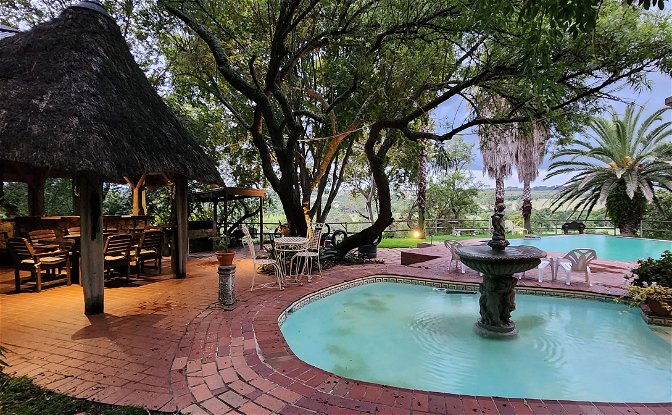 What facilities do we have?
9 self-catering units with braai areas, Wifi and DSTV
2 Event Venues called Jabulani and Hlala Lapha
3 swimming pools
Amazing scenery and river views
Beautiful gardens with rolling lawns and scenic landscape
Wonderful birdlife for birders
Walks but no directional paths yet
We stock convenience items i.e. drinks, bottled water, chips, box milk and the like
Solar system that offers lights, TV and Wifi should there be load shedding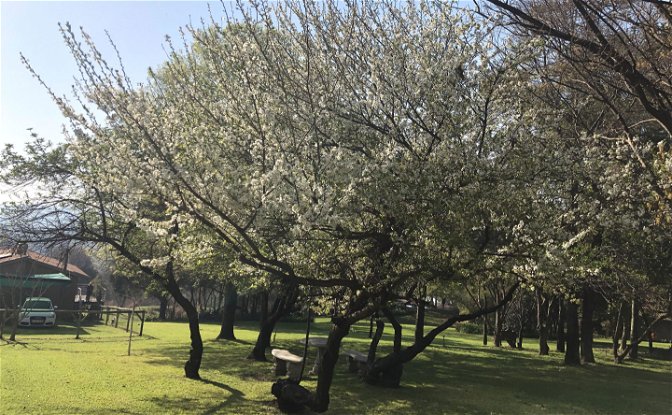 What to do
Hills and Dales Accommodation offers a slow and peaceful retreat despite holding events.  Guests can relax, braai, swim and go for walks.
We offer unique and exciting Bush Paintball for 8 plus guests.
We are located in the Cradle of Humankind Tourism zone that teams with all sorts of activities from historical and cultural activities to eating out, other fun events and shopping.  
Guest Reviews
Relaxed, comfortable, clean and spacious. I'll definitely come back provided it's not overbooked. (I shouldn't write such a positive review)

David McNeilly

Ireland

If you're looking for a relaxing and quiet place close to the city than this is it! We very much enjoyed our stay in the middle of nature - we loved the bird life and to be close to the Cradle where we were cycling regularly. It is an absolute beautiful place and very secure. We'll definitely be back! Thanks Diane and Tim!

Sabine Gerharz

Germany

The place is very nice and super clean

The place is very nice and super clean. If you want to wake up to a peace and quiet place with an amazing view, Hills and Dales is for you. I enjoyed the pool next to my room I also liked the fact that there's a small braai stand outside my room. I'd def recommend this place to anyone.

Nthabiseng Ramphele

Johannesburg

Good value for money

Good value for money and stay very close to Joburg, but nice and quiet and relaxed with beautiful views and very peaceful.

Oliver Bekker

Johannesburg