Jabulani Venue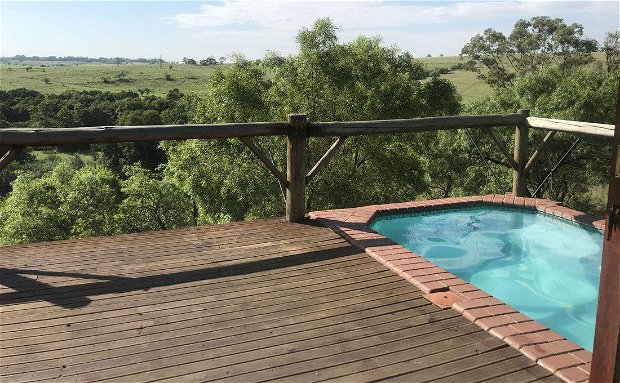 Jabulani is situated in a rural environment, overlooks Lanseria airport to the far right and has a lovely view of the Jukskei River and open countryside. It has loads of ambiance and is an extremely popular party venue.
Inside entertainment area is 12 metres by 14 metres, which leads onto a 4 metre deck and plunge pool.  It is a perfect gathering place, which is private and secure.  There are folding wooden and glass doors across the front of the venue, that can be partially or fully opened or closed to keep out the cold and keep in the warmth from the fireplace.
Jabulani is fully set up for guests to cater for themselves or we can cater.  We offer full self-catering package or part or full catering packages.  Guests have exclusive use of Jabulani, two bedrooms, which comprise of bunkbeds in each and sleeps up to 34 people in total, 4 toilets and 4 showers. There is a stone bar and fireplace, indoor braai and plenty of teak table tops for food preparation and serving food, as well as two teak picnic tables, which overlook the view.  There is a fridge and kitchen sink, along with microwave, toaster, kettle, hot plates and spit area for use by guests. We set up the fireplace for you to use but otherwise you need to supply your own wood.
We provide good quality plastic plates, beer mugs, shooter glasses, salad and snack bowls and dustbins for your convenience. Dishwash, soap and towels are provided at the sink. All bedding requirements, towels and soap are provided.
There is a gas skottel for the cooking of breakfasts, two hot plates for making pap and gravy, along with pots and potjie pot. Flood lighting can be turned on in Jabulani to light up the hill, deck, pool and parking area. There is a 59" flat screen TV at Jabulani with all the Super Sport DSTV channels available to watch the sport of your choice.
We provide ice for the initial two ice buckets on the bar but other than this you will need to supply your own ice.
Draft Beer - please order a week prior to the event
Hire of one tap dispenser R700 per night – should you have your own draft
Hire of one tap dispenser R300, if you are purchasing beer from us, draft rates below but please confirm rates, which may change :
Draft Lager SAB 30 Litre / 50 Litre
Castle / Hansa 1085.00 / 1770.00
Black Label/Castle Lite 1230.00 / 2020.00
What A Guest Needs To Bring
Wood for the fireplace
Mossie repellent for your room or in the evenings
Swimming pool towel
Minimum 6 blocks of ice to keep drinks cold – there are ice boxes under the bar counter for your drinks and ice buckets on the counter
Drink, food, firelighters and charcoal requirements if you are self-catering
Music – docking station or small blue tooth speakers only. No big speakers or big sound systems allowed, which have proved too difficult to control.
Headache and hangover medication
Earplugs for peaceful sleep!