Hlala Lapha Venue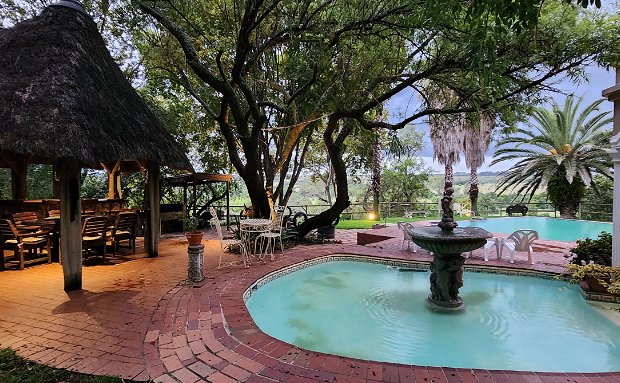 Hlala Lapha is surrounded by trees, pools, beautiful gardens, rolling lawns and superb scenery. It has a magical air about it in the evenings and is a very popular party or family gathering venue. It incorporates a flagstone extension under the trees with a firepit, big braai/potjie and spit area under soft spots. There is a big weber, other braai equipment and braai utensils for your convenience. Hlala Lapha is fully set up for guests to cater for themselves or, we can cater for you. We offer self-catering and part, or full catering packages. Paintball is offered in our natural bush terrain, which offers an exhilarating experience.
Guests have exclusive use of Hlala Lapha from check-in 14H00 to 02H00 for normal events, however, it depends on your requirements i.e. perhaps it is an 80th birthday party luncheon that you want to include with your accommodation over the weekend or, it may be a bachelorette or bachelor party on a Saturday afternoon and evening?  Just let us know what your specific requirements are and we can get back to you with the information.  Music should be played at a reasonable level at all times, so as not to disturb other guests.  There is an under-counter bar fridge in the lapa to put drinks in. We set up the firepit for you to use but otherwise you need to supply your own wood. The firepit is lovely to sit or stand around when the evening turns cold. There is a gas heater in the Lapa to use on the cold winter nights if necessary. We provide good quality plastic plates, beer mugs, shooter glasses, salad and snack bowls and dustbins for your convenience should you be self-catering.  Dishwash, soap and towels are provided at the lapa basin.
Lighting is perfect with spots on the cooking area which you can turn off when not required.  Garden lighting can be turned on in the lapa to light up the garden in the evening.
There is a 52 inch TV screen in the lapa with all the Super Sport DSTV channels available to watch the sport of your choice. We have solar backup should there be an Eskom outage so, no interruption of sports matches. We provide ice for the initial two ice buckets on the bar but other than this, you will need to supply your own.
We will arrange the accommodation as per your unique event.  Friday one night event bookings – departure time is strictly 09H00 and Saturday one night event bookings – departure time is strictly 10H00.
Draft Beer – please order a week prior to event
Hire of one tap dispenser R700 per night – should you have your own draft
Hire of one tap dispenser R300, if you are purchasing beer from us, draft rates below but please confirm rates, which may change :
Draft Lager SAB 30 Litre / 50 Litre
Castle / Hansa 1085.00 / 1770.00
Black Label/Castle Lite 1230.00 / 2020.00
What A Guest Needs To Bring
Wood for the braziers
Mossie repellent for your room or in the evenings
Swimming pool towel
Ice for the bar counter – there are ice buckets on the counter
Drink, food, firelighters and charcoal requirements if you are self-catering
Music – docking station or small blue tooth speakers only. No big speakers or big sound systems allowed, which have proved too difficult to control.
Headache and hangover medication
Earplugs for peaceful sleep!
Hlala Lapha House Rules
We have found it necessary at the Hlala Lapha Venue to introduce a couple of extra rules so that we can keep not only all our guests happy, but the surrounding countryside neighbourhood happy as well.  We are letting you know prior to booking, so that you can make an informed decision on whether or not you want to book this beautiful Venue.  The Venue itself has so much ambiance, you do not require loud music, which, in essence, spoils the charm.  We do have other guests around, so, if the conditions below are complied with, we have found that everyone is kept happy…
Music to be played at a reasonable level at all times
DJs not allowed or any form of microphones
Music – docking station or small blue tooth speakers only. Size – no more than 400 mm x 300 mm.  No big speakers or big sound systems, which have proved too difficult to control and are totally unnecessary.
Please control unnecessarily loud shouting, swearing or drunken singing,  and the like i.e. hooting, car revving and loud thumping music from vehicles.
Noise should cease at 12H00 and the music should be toned right down so that it does not disturb anyone.  Music should be turned off at 02H00.  Time to sit around a fire and tell stories!
No 'dancers' or additional entertainment allowed at the Hlala Lapha Venue.
No noise or partying in the Accommodation Units, which are meant for sleeping only.